Truly generous of Ernie Boch Jr. to open up his beautiful home, his gorgeous mansion to so many for the Donald Trump meet and greet. This blog article is not about politics, it's not inferring who to vote for. There are many interviews, debates and events to come for people to make an informed decision. This blog article is simply and specifically meant as a big thank you to Ernie for hosting such a fabulous night. This blog is to thank Donald for making the time and taking the time to come to Norwood Massachusetts to share his perspectives. And this blog article is to share my experience with my readers of the meet and greet (including a few fun pictures of the night out). 
What Makes For A Great Night Out? Ernie Boch Jr's Home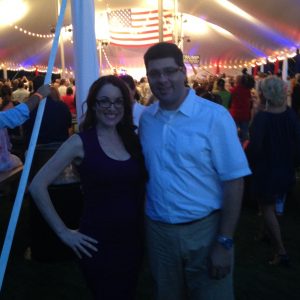 I had the opportunity to attend a lovely night out with my husband of 21+ years on a gorgeous evening. Now that all by itself makes for a great night out indeed.
Let's look further into why this night out at Boch's home was so enjoyable. Was it because the food was fabulous?
Well, the food was yum, and that certainly contributed to such a lovely evening out at Ernie's. There were various food stations throughout ranging from steak to salad to sushi, and more….Quite generous indeed.
The band 'Fortune' was awesome. That was certainly a part of what made the night enjoyable too. For great music is therapeutic for the spirit.
What else made the evening fun? Certainly getting to see some people in the media I haven't seen in a while including; Jim Armstrong of CBS Boston, Doug Goodie AKA "VB" formally of FOX 25 News Boston, and pictured to the left; Michele McPhee of WMEX 1510AM Boston, and more. Meeting new people was also enjoyable.
Meeting the artist who painted a picture of Trump was also fun as I do enjoy quality art.
The night sky was a gorgeous blue with a beautiful moon, and the temperature was perfect. Nice job planning that Ernie, lol.
Speaking of the sky…another fun part of the night was the drones, lol. I must say, it was humorous to me, I got a good laugh out of it because I love science fiction movies. There's something about drones that just seem so, well, over the top futuristic to me, although we live in the reality of it's existance.
What also made this such a great night was I had the opportunity to meet Ernie Boch Jr. who hosted such a relaxing enjoyable evening. Here, he does not know me, though I live and work in MA. Prior to this event, I never had the opportunity to meet him, and yet he opened up his home to me and so many others. As a public we all hear and read about Ernie, I shall share that I experienced Ernie as kind and personable. Ernie was quite welcoming to all his guests. Truly generous to open up one's home to so many so we the public had the opportunity to meet one of the candidates running for President of the U.S.A. Not everyday do we all have such an experience, and Ernie made that happen.
Certainly, what also made this evening so pleasurable was really what the evening was all about. And what a fun experience that was! I had the wonderful opportunity to meet one of the candidates who is passionate about becoming the next President of the United States Of America: Donald Trump. That was quite enjoyable, I must say. To have the opportunity to meet someone who has passion, the desire to make America great again, and has a vision about how to do that is special. And I would think special for anyone regardless of one's political slant.
Psychotherapist's Experience Of Donald Trump
My experience in meeting Donald was a very positive one. When you meet him, you feel like you already have met him, you feel like you know him. Well, that was my experience. Though I will say that in my observation of others, that was the consensus experience. Why? Perhaps it has to do with the fact that who Donald presents himself as in person is who he is on air. He is real. He presents as a regular real person. He presents as a person who has passion and a zest for life. Donald presents as a hard worker. He presents as a person with strength, conviction and courage to say what he believes. Like him or hate him, voting for him or not, either way, would it be fun to meet him? What do you think?
I had the opportunity to shake Trump's hand, which also made the night super fun. (Albeit the pic is a little blurry, that's me right there). Trump presented to me as a man who was in no rush to leave the meet and greet. He took his time and answered many of the media's questions at the press tent. I had the opportunity to attend the press conference, which was very special, because I got to hear all the questions and see Trump answer them right then and there, in the front row. Who doesn't enjoy the front row of a show? And yes, it is a show is it not? Life is a show, and we experience each moment within the show and create our realities moment to moment within that show.
I am often on the news sharing my perspective on timely topics through the lens of a Psychotherapist. Recently I shared my analysis on why voters like Trump during an interview on FOX News Channel's The Real Story With Gretchen Carlson. Having the opportunity to meet Donald so soon after that interview was a pleasure, for who he presents on air is who he is in person.
Donald Trump Engages His Audience
After the first portion of Donald's meet and greet at the press section, then he was escorted to the second and final portion of his meet and greet in the beautiful outdoors of Ernie's mansion to where all of the attendees were excited to meet Trump and hear his thoughts. During this portion of the meet and greet, Trump spoke in his usual engaging style. He is fully present and in the moment. It is this passion, this focus, this style – that leads people to feel like he really cares and wants to be right where he is. In this portion of the meet and greet, he again clearly took his time, he appeared to be in no rush. In my impression Donald appeared to really enjoy the gathering. Trump's communication style is engaging for he has what I have written about in a previous blog where I educate my readers on 'Passionate Communication'. Having "communicational alignment" (i.e., words, tone, body language – with consistency) speaking with passion leaves the recipient feeling good about their experience with the communicator. THAT is Trump's X-factor: communicational alignment, his 'all in' presence where each moment his presence is one of passion and intensity which offers the recipient of his communication to feel he cares, he's vested, and he will take action. And THAT is passionate communication.
When Trump spoke during this second portion of the event, he engaged his audience, he looked around the room leading those attending feeling like he is looking right at you. This "room" was an outside paradise under a tent of what appeared to me to be at least 1,000 people there. It certainly was quite a showing. On his way out, he shook hands of many people, and even provided autographs for some who asked.
My Four Favorite Donald Trump Quotes At Boch's House Were:
"We have a mental health problem"
"We are going to have so many great victories"
"We are going to be so proud of this country again"
"I'm going to be the greatest job President that god ever created"
As a psychotherapist, as a business owner of a private mental health counseling practice, as a person who is passionate about people and our country, as a person who strongly believes in the philosophy of taking action on personal, relational and professional growth and enhancement, as a person who believes that working is tied in to one's mental health and wellness – these 4 messages he stated are special to hear.
The Trump Meet And Greet At Boch's Stimulated All 5 Senses
If my night out were to be compared to being at a concert, a show, a ball game, a movie, a restaurant – all fun activities to do on a night out, this was by far as pleasurable if not more pleasurable. The Donald Trump meet and greet at Ernie Boch's home stimulated all senses: sight (e.g., gorgeous home, beautifully manicured greenery), sound (e.g., relevant messages from Donald Trump, fun chit chat with fellow attendees, great music), smell (e.g., fresh air), taste (e.g., great food) and touch (e.g, holding hands with the hubby, shaking hands with Donald Trump, arm around picture with Ernie Boch). Wouldn't it be grand if all people had the opportunity to meet in person all of the candidates? What a great night out each of those meet and greets would be. I know I would love to meet several of the candidates, wouldn't you?