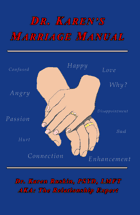 96.9 Boston Talks; The Joe Ligotti Show summoned Dr. Karen Ruskin, yes that's me, marriage and relationship expert for 18 years – to discuss my newest book release: Dr. Karen's Marriage Manual. This interview offered the listeners not only an opportunity to hear Joe apologize several times to his wife, as he scrolled through this book realizing the many things he does that could use improvement, but, his listeners also experienced so much more.
A few of the topics discussed during this live interview Saturday afternoon, November 12, 2011 included:
Section 2 lists 29 ways to destroy your marriage, a few that were mentioned included;  cheating, name calling, blaming, and sleeping in separate beds.
Section 3 lists 40 ways to have a happy lasting marriage, a few that were discussed included; verbalizing appreciation for your spouse, being the other person's fan, making the time to take the time to spend time together, and communication.
Watering the plant of marriage.
Marital sexual relationship (e.g., get into the marriage sexual zone rather than using alcohol to have great sex).
Techniques to keep your marriage healthy, happy, and long lasting.
If you wish to hear this entertaining and informative 30 minute interview, click the play button below for on demand listening.
The Joe Ligotti Show (formally The Joe & Huggy Show) airs on 96.9 Boston Talks every Saturday noon – 4pm.