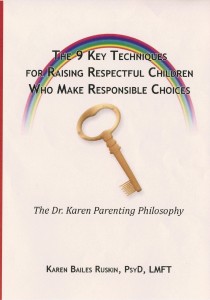 It's Your Health radio's host Lisa Davis interviewed Dr. Karen Ruskin. During this interview I discussed my parenting book: The 9 Key Techniques for Raising Respectful Children Who Make Responsible Choices. My focus during this interview was to share my  insights on how to raise children that develop respectful and responsible behaviors as their core personality. During this interview I shared two concrete do-able techniques that can be implemented today (whether you have a child with a disability or not).
The two techniques include:
1. Role model respectful and responsible behavior.
2. Create a sense of order in their world.
If you wish to listen to this radio interview where I explain how to implement these two techniques as well as offer real-life scenarios which offers concrete clarity as to how it is the day to day interactions with one's children that is the difference that makes the difference in them developing respectful and responsible behavior, listen on demand. In addition, if you wish to learn more about these two particular techniques, learn more parenting strategies, or learn more about implementing The Dr. Karen Parenting Philosophy, my cutting edge
parenting book
is available for purchase directly from this website where I provide an autographed copy. 
It's Your Health
radio is heard in several states Monday through Friday.  Learn more about
It's Your Health Radio
.