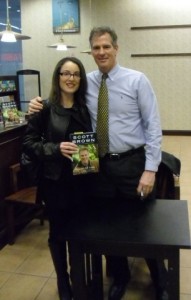 Scott Brown Book Signing: Therapist is Proud – Dr. Karen Ruskin attended Scott Brown's book signing at the Barnes & Noble in Walpole, MA on March 6th.
I, Dr. Karen Ruskin had the wonderful opportunity to meet for the first time and speak with Senator Scott Brown. I value punctuality as a professional and as a person, and he was early to his own book signing. Already he received an A+ for that alone. He was quite gracious and took the time to take photos with whomever wished to. For those of you that never have met him I shall share with you that he was friendly and personable with a kind and calm demeanor. I communicated to Senator Brown I am proud of him for accomplishing what he has, truly 'against all odds'. The title of his book; Against All Odds, is very appropriate indeed. I do believe that he, as we all are, on a life journey. We can choose to make healthy choices each day to live a life of personal, interactional, familial, and professional growth at any age.
I shared with Senator Brown that as a psychotherapist, I utilize stories of real people that have not just survived trauma in their lives, rather they have found within one's self a way to thrive, as reminders for some of those I work with that have or are going through trauma. Being able to share with clientele the theme of Senator Brown's life story is a helpful method to communicate that one can thrive despite one's life experiences in one's upbringing.
In Senator Brown's book he speaks candidly that he was sexually abused as a child in summer camp, this was very courageous that he disclosed this personal trauma. He also shared that he moved seventeen times over his first eighteen years, had a largely absent father that married four separate times, and a mother in relationships which often included alcohol and violence.
"I look back on my life now, though, and I can honestly say that there isn't one thing I would change: not the arrest, not the violence, not the hunger, not the beatings and the brute struggles, not even cleaning up someone else's vomit in the stairwell of my dorm at TUFTS for $10 in quick cash from the resident adviser because I had no money for extra food . . .  those years and that life made me the man I am today. I hope, too, they made me a better man".        -Senator Scott Brown.
And that it did Senator Brown.
Some go through such hardships in one's life that it is amazing that they survived. To become someone that plays a role in so many others lives is not the outcome of all of those people that go through severe challenges. Then there are those that have a wonderful life with all of the opportunities to succeed and they do not achieve what Senator Brown has. Often when you speak with those that found a way to survive and thrive when one has gone through a life of hardship as Senator Brown reports in his book, those folks that thrive report something or someone that they had in their life to help them get through it. For an example, Senator Brown reports in his book the significant role basketball played in his life.
Bottom line: this therapist, I, Dr. Karen Ruskin am proud of Senator Brown, and certainly I hope he feels proud of himself and continues on his journey of personal, interactional, familial, and professional growth. Think about your own life. What hardships have you encountered? Ask yourself; do I feel my life experiences have held me back or rather played a role in making me stronger? I invite my readers to share your own personal stories if you wish of triumph over a painful life experience (s). Or, you may use this blog as an opportunity to share your positive thoughts about Senator Brown and his bravery to confront his life and achieve against all odds.
When a person has been abused either emotionally, sexually, verbally, or physically, the person carries it with them forever. It is my impression that Senator Brown's disclosing his sexual abuse history recently, after never having shared this growing up with his mother, also never having disclosed this information to his wife, is part of his personal journey of self acceptance and healing. I found it extremely disturbing as a therapist when there were talks among some who felt that he shared this information to sell books. His holding parts of his past in his personal mental vault all these years is not surprising and he is not alone, there are men and women everyday holding secrets within themselves. I am sincerely happy for Senator Brown that he is in a safe place in his life and in a healthy stable place in his mind that he was ready to share what he had went through. I hope if you are someone that is suffering with a personal painful secret you have someone you can trust to share your pain with whether it is a friend, a family member, or a therapist, in an effort to get one step forward on your life journey of self healing.