As a mental health professional since 1993, specifically, as a Psychotherapist who specializes in relationships, as a Marriage and Family Therapist – I have experienced and seen much in my 20+ years providing counseling. Whether in my work as a therapist in my private practice based in Massachusetts with power couples, celebrities, or with couples that are the "regular every day folk" so-to-speak, whether I meet with the couple unit, the entire family, or individuals; it is not uncommon for many couples in their relationship to experience that over time they develop a business partnership in their marriage. What that business is and means, the depth of what that is, is different for each couple. For some, the business may be a business outside of the home which is what brings in the income. For other couples, the business is the business of running the family (e.g., household chores, bringing the children to and from activities). When we think about who are the top "power couples" in the public eye, and who could rightfully be deemed America's most famous couple who demonstrate a business partnership, who do we think of? Answer: Bill and Hillary Clinton! The Clinton's are certainly one of, if not 'the' most famous power couple in America that are a definite example of having developed a business partnership, a brand. Thus, when I was asked by Doug Sain, the producer of the movie Clinton Inc., based on author Daniel Halper's New York Times best selling book, to share my expertise as a Marriage/Relationship Expert to provide commentary on America's power couple: Bill and Hillary Clinton, I was so honored! Genuinely excited. And of course I stated it would be a privilege to do so. For as a Psychotherapist, would this not be an amazing experience? Oh yes indeed. And yes, it was! This blog article allows for my readers the opportunity to get a little taste before all the excitement starts in the next upcoming weeks for the promotion of this movie. This blog offers my readers a little behind the scenes scoop de jure from me to you (including pictures). Hence, this blog title: Clinton Inc The Movie – Behind The Scenes. From of course, this doc's lens…
The Media Offers This Marriage Therapist The Opportunity To Touch The Lives Of The Many
Whether I am on air addressing the latest political marital scandal, or in my office helping couples navigate the challenges of marriage, I feel both blessed and privileged to do what I love and am passionate about. And that is; touching the lives of others with my insights from a relational lens. As a Marriage and Family Therapist I have had a unique opportunity to touch the lives of the masses, as I have found the media as a wonderful vessel to touch many all at once. I genuinely appreciate being invited into the world of the media.
When I initially started out providing counseling services in 1993, I did not know that I would find myself sharing my thoughts on air. Though ultimately, that is indeed what occurred. Mental health and relational health and wellness can often be stigmatized. Therefore, to have the opportunity as a Marriage and Family Therapist/Psychotherapist to do what I love every day, which is to provide counseling for my clients, and then, to receive the gift to speak on air and thus utilize the vessel of the media, offers the opportunity to de-stigmatize relational health. Just when I think I have reached the highest height in terms of the quantity of lives I can touch (by being a guest expert on TV for years, interviews on the radio and print media), I am then asked to be a part of this documentary that will air on the big screen. What a gift! As this opportunity, I will share with you my behind the scenes thoughts; it opens the door even further to de-stigmatize what Marriage Therapists are and can offer to our public. I am known as a professional with a genuine passion for and an expertise in understanding the relationship dynamics between people.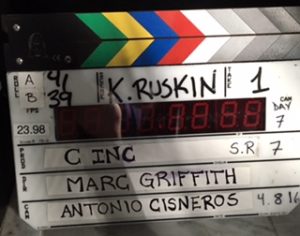 The Clapper Is Real 
As a fun behind the scenes side note (perhaps this seems random, but… this blog is a behind the scenes peek so anything goes), the clapper is a real thing! There I was, being asked serious questions and answering them from my heart and mind, and all of a sudden – the clapper appears. Ha ha! It's real! I joke about this because as a lay person not an actress, how many of us know that this object is really used? It is. So of course, I took a photo as you can see displayed.
Dr. Karen's Marriage Manual
Power couples, couples, infidelity, business partnerships, sexual needs/desires, from A to Z ways to destroy your marriage vs. have a healthy, happy and successful marriage, relationship communication patterns/techniques  – my much talked about book Dr. Karen's Marriage Manual addresses the wide range of challenges couples experience. This book provides real advice for real people at any and all marital stages. Famous or not, celebrity or not, politician or not, we all bleed red. There are definitive patterns between couples within each couple's uniqueness. Readers of my book report that the cutting edge insights and concrete advice along with the practical and do-able tips I provide make a difference in their marriage. I separate myth from facts.
My goal as a Marriage Therapist has always been to provide insight, perspective, and tips that can be implemented immediately with results. People receive information in different ways, and as a health care professional I have the opportunity to touch the lives of others through varied methodologies. Writing Dr. Karen's Marriage Manual, was very meaningful to me as not everyone will walk into my office for counseling or contact me for a phone appointment. The bottom line is that there are those who want to read information and take action on that knowledge. Thus, to be able to touch peoples lives by entering their home via the means of a book, where they can cozy up with information to help them to help themselves understand their own and their mate's wants, needs, thoughts and actions, and enhance their marriage, touches my heart. My blogs, interviews (TV, radio, print), consultation to other therapists helping them with their couples counseling cases, speeches, workshops, seminars, etc… Each and all of my experiences each day is truly rewarding and so special to me. To add the genre of 'movie' to the ways in which I can touch the lives of others is truly beyond my wildest dreams.
Regular Gal Rises To Become An Expert In The Industry Of Marital and Relational Health And Wellness
As a regular gal born and raised in Queens NY, I was blessed to have been raised by my dear parents; my precious father who protected and served as a NYC police detective, and my attentive stay at home mother. My father passed away 3 weeks before filming Clinton Inc., thus just months ago. He would have loved to have gone to the movies with his buddies to see it. He and his pals would go to the movies as a crew and referred to themselves as "the geezers club". They even had t-shirts made that had the words written on the shirt: "The Geezers Club" and would wear them at the movies. Adorable! Well, let's be specific, golf style shirts, as he explained, because they were classy. Ha ha! Oh how he had fun with his buddies.
My dad fought cancer and put up a good fight he did. I was blessed to have had him on earth till he was 82 years young. He lives forever within me and our family with his values, messages, character and love. A touching example of the message of how our parents affect us, and the next generation, is that my son thought of and implemented having my dad's badge number engraved onto his H.S. football QB towel to wear at each of his practices this summer and on into the season upcoming. I share this personal "behind the scenes" story about my life for a very specific reason, which is to draw out the thought as to how our personal relational past affects our thoughts and actions and impacts the next generation. This very topic: past-to-present in terms of Bill and Hillary's childhood experiences and the role that may have played in who they each became as individuals and the choices they made as a couple, is indeed one of the interesting topics addressed in the movie Clinton Inc.
I learned at an early age what it was to feel loved and to be emotionally supported in the endeavors I embarked upon. I learned from my father what it was by observational example to have a strong work ethic, passion for one's interests, and to speak up for what you believe. Our childhood cannot not affect who we become. I know my experience of my father and that relationship influenced who I am as a mother, as a spouse, how I interact with others on a personal relational level and in my professional life. And thus my experiences in my childhood which influences my actions in adulthood affects my nuclear family and thus their choices and actions. There is a systemic affect between parent and child and child into adulthood and on into the next generation and the next. It is that relationship dynamic between parent and child that has a significant impact on our choices, thoughts and actions on into adulthood indeed. An interesting aspect of the movie Clinton Inc., includes discussion and commentary regarding the connection between Bill's childhood to adulthood and Hillary's childhood to adulthood, and how that plays a part in various aspects of their marriage, including how that may have played a role in the business partnership aspect of their marriage creating a brand, an "corporation", and the Clinton next generation. That's as much as I will say for now on that topic. You will have the opportunity to see the documentary to find out more about how the Clinton's individual personal relational past may have played a role in their relational and professional choices and actions to date. How was that for a taste?
Think about your own life. Consider how your past has affected your present. Consider in what ways you can utilize those experiences in a positive way.
When I married my college sweetheart back in the early 90's (met in the late 80's), became a Psychotherapist/Marriage and Family Therapist, and my husband and I became parents, little did I know that my passion to touch the lives of others with my relational expertise would progress from being an in-office therapist and speaker in the community with my marriage and parenting workshops, to ultimately become a leader in the industry of relational, marital and family health and wellness/counseling.
My childhood friends that I remain close with share with me that they are not surprised, as I have always had strong opinions and concrete insights. I have always had an interest in, analyze and provide my thoughts on relational topics. I have been told that on air at times my perspective is considered provocative. I am never afraid to tell-it-like-it-is, and quickly discovered that my expertise in understanding, analyzing and providing insight into the relationship dynamics between people, my cutting edge and unique perspectives, and my passion to share those insights is something that was not only valued by my clientele, it is also valued by the masses and thus called upon by the media industry (TV, radio, print). And now, the movie industry. I am so touched, a true honor!
Clinton Inc The Movie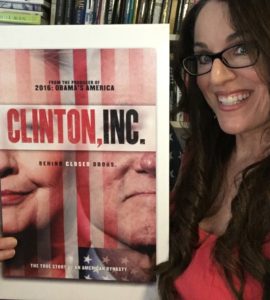 The movie, Clinton Inc., is described as telling the story of two politicians, that are married and have defined a political generation. Certainly it would not be out of the box to describe the Clinton's as an enterprise, as a brand, and what would be described as a business partnership and marriage. This documentary offers commentary from various experts in differing professions. What a privilege to be a part of such an educated group of varied professionals. To be the Psychotherapist/Marriage and Family Therapist who specializes in relationship issues to be called upon to share my observations, of which are interwoven throughout this professionally done documentary, is awesome. The picture you see here is the Clinton, Inc. movie poster in which I am holding.
Unique Experience/Top Notch Crew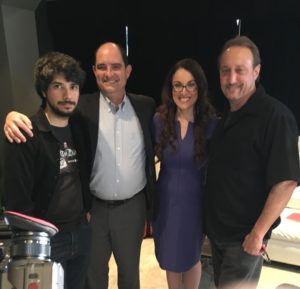 One of the most unique experiences I have had is having the opportunity to participate as one of the commentators in and for the movie Clinton Inc. My experience was awesome working with producer Doug Sain, and his entire team from start to finish. The Clinton Inc. crew, truly top notch. The picture you see here was taken during filming in New York, which includes me, with a few members of the team I had the opportunity to work with including the hard working Bill Baber (Writer/Director). I saved this special photo memory in my phone to date, and was looking quite forward to sharing it with you my readers. And now, you have another behind the scenes moment.
More To Come…
In the upcoming week ahead, media promotions will actively start up for this documentary. I wanted to take a moment before all the excitement begins, to share my appreciation of taking part in such an informative documentary. And to have fun sharing with my readers some behind the scenes information and pictures.
My next blog article (stay tuned), will focus more specifically on the movie and will provide links for my readers to learn more about Clinton Inc., watch the trailer, etc.
Hope you, my readers, enjoyed a little pre-promotional behind the scenes taste as we get closer to the meal.